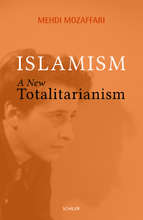 Islamism - A New Totalitarianism
Mehdi Mozaffari
Verlag Hans Schiler


Langue: anglais


1

. Edition (

2017

)
franz. Broschur,

344

pages
ISBN

9873899301137


Disponibilité: livraison immédiate


34.00

€ Ajouter au panier

Many reasons justify the study of Isla­mism. 'Isla­mism', as a concept, is used by scho­lars, politi­cians and jour­na­lists with increa­sing frequ­ency. Like any other concept, 'Isla­mism' has a genea­logy and a history that, in a way, consti­tute its iden­tity. 'Isla­mism' has also become a scho­larly concept which is employed parti­cu­larly within political science, socio­logy, and anthro­po­logy. Isla­mism is first and fore­most an ideo­logy and as such, it should be treated and studied as we do with other political doctrines and ideo­lo­gies like Marxism, fascism, and libe­ra­lism.

»The best book on Isla­mism so far … it is profoundly original.«
Professor Uffe Øster­gaard, Copen­hagen Busi­ness School

»Mozaf­fari's book ­fi­nally breaks through the thick shrouds of ignor­ance, confu­sion, which obscure the subject and makes it intel­li­gible to Western histo­rians, social scien­tists, and cultural commen­ta­tors.«
Professor Roger Griffin, Oxford Brookes Univer­sity.

»This book will be an indi­s­pensable guide for students and will make an important contri­bu­tion to debates on the role of tota­li­ta­rian ideo­lo­gies and move­ments in the 21. Century.«
Professor Uwe Backes, Hannah Arendt Insti­tute for Rese­arch on Tota­li­ta­ria­nism

This book is the first attempt to provide a global view of the pheno­menon of Isla­mism from its begin­ning in Medina under the Prophet Muhammad to its new forms with the 'Cali­phate' of Abu Bakr al-Bagh­dadi and the 'Imamate' of Ayatollah Khamenei. It demon­s­t­rates that all Isla­mists, Shia, Sunni, Salafi or Jihadi, are aiming for the same goal: The conquest of the world and the restau­ra­tion of the Isla­mist World Empire by all means. Is this only a utopia? Not in an Isla­mist optic. Isla­mists cons­ider the fall of the Soviet Empire and the unpre­ce­dented crisis in Europe, due to the massive Muslim immi­g­ra­tion, as the crepus­cule of the collapse of the exis­ting world order. The reader finds in this book an ela-borated discus­sion of strengths and weak­nesses of the Isla­mist world project.

Mehdi Mozaf­fari is Professor Emeritus, Depart­ment of Political Science, Aarhus Univer­sity, Denmark, and former head of the Centre for Studies in Isla­mism and Radi­ca­liza­tion (CIR). He is the author of a number of books and scho­larly arti­cles on inter­na­tional politics, Islam and globa­liza­tion. He has been visi­ting scholar and teacher at diffe­rent univer­si­ties: Tehran, Paris 1, Genève, Grenoble, Catania, MGIMO (Moscow) and senior fellow at Harvard Univer­sity.