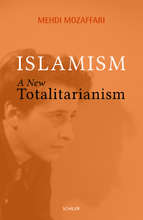 Islamism - A New Totalitarianism
Mehdi Mozaffari
Verlag Hans Schiler
Sprache: Englisch
1. Auflage (2017)
franz. Broschur, 344 Seiten
ISBN 9783899301137
Verfügbarkeit: sofort lieferbar
34.00 €
In den Einkaufswagen
Many reasons justify the study of Islamism. 'Islamism', as a concept, is used by scholars, politicians and journalists with increasing frequency. Like any other concept, 'Islamism' has a genealogy and a history that, in a way, constitute its identity. 'Islamism' has also become a scholarly concept which is employed particularly within political science, sociology, and anthropology. Islamism is first and foremost an ideology and as such, it should be treated and studied as we do with other political doctrines and ideologies like Marxism, fascism, and liberalism.

»The best book on Islamism so far … it is profoundly original.«
Professor Uffe Østergaard, Copenhagen Business School

»Mozaffari's book finally breaks through the thick shrouds of ignorance, confusion, which obscure the subject and makes it intelligible to Western historians, social scientists, and cultural commentators.«
Professor Roger Griffin, Oxford Brookes University.

»This book will be an indispensable guide for students and will make an important contribution to debates on the role of totalitarian ideologies and movements in the 21. Century.«
Professor Uwe Backes, Hannah Arendt Institute for Research on Totalitarianism

This book is the first attempt to provide a global view of the phenomenon of Islamism from its beginning in Medina under the Prophet Muhammad to its new forms with the 'Caliphate' of Abu Bakr al-Baghdadi and the 'Imamate' of Ayatollah Khamenei. It demonstrates that all Islamists, Shia, Sunni, Salafi or Jihadi, are aiming for the same goal: The conquest of the world and the restauration of the Islamist World Empire by all means. Is this only a utopia? Not in an Islamist optic. Islamists consider the fall of the Soviet Empire and the unprecedented crisis in Europe, due to the massive Muslim immigration, as the crepuscule of the collapse of the existing world order. The reader finds in this book an ela-borated discussion of strengths and weaknesses of the Islamist world project.

Mehdi Mozaffari is Professor Emeritus, Department of Political Science, Aarhus University, Denmark, and former head of the Centre for Studies in Islamism and Radicalization (CIR). He is the author of a number of books and scholarly articles on international politics, Islam and globalization. He has been visiting scholar and teacher at different universities: Tehran, Paris 1, Genève, Grenoble, Catania, MGIMO (Moscow) and senior fellow at Harvard University.