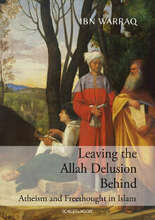 Leaving the Allah Delusion Behind
Atheism and Freethought in Islam
Ibn Warraq
Schiler & Mücke


Sprache: Englisch


1

. Auflage (

2020

)
Hardcover,

752

Seiten
ISBN

9783899302561


Verfügbarkeit: sofort lieferbar


68.00

€ In den Einkaufswagen

»This beau­ti­fully written book is a tour-de-force of asto­nis­hing scho­larship.« (Richard Dawkins)
»Ibn Warraq exem­p­li­fies the rarely combined quali­ties of courage, inte­grity, and intel­li­gence.« (Bernard Lewis)
»Warraq's work has been respon­sible for a para­digm shift, revi­vi­fying the light of reason as it bears upon the domi­nant notions about the meaning of the Qur'an in our times.« (Judith Mendel­sohn Rood)

Leaving the Allah Delu­sion Behind begins with a pionee­r­ing study of free­t­hought and atheism in both Clas­sical and Modern Islam, a much neglected subject. After a look at zindīqs (athe­ists, heretics, dualists) and dahris (mate­ria­lists and athe­ists), Ibn Warraq examines such heretics as Ibn al-Rāwandī, Al-Rāzī, al-Ma'arrī, 'Umar Khayyām, and Akbar the Great.
In Part Two, the author discusses the fasci­na­ting story of the Islamic origins of The Trea­tise of The Three Impo­s­tors (a refu­ta­tion of the revealed reli­gions of Judaism, Chris­tianity, and Islam, and a scat­hing look at their respec­tive prophets, Moses, Jesus, and Muhammad), and the philo­sophy of Aver­roes (Ibn Rushd), and its enor­mous influ­ence on Western free­t­hought.
Part Three brings the story up to the nine­­te­enth-, twen­tieth-, and twenty-first centu­ry. We are witn­es­sing monu­mental changes in the beliefs of peoples of Islamic lands, changes whose impli­ca­tions and conse­qu­ences have not yet sunk in. The general public both in the West, and in the Middle East is unaware of this modern pheno­menon of lite­rally thou­sands of young men and women from Islamic socie­ties leaving Islam, and embra­cing atheism. Their presence can be felt on the internet and the social media.

Ibn Warraq, a leading figure in Koranic criti­cism, is the author of eight pionee­ring books on Islam and Koranic criti­cism, inclu­ding the classic Why I am Not a Muslim, 1995. Warraq's op-ed pieces have appeared in the Wall Street Journal in America and The Guar­dian in London, and he has addressed distin­gu­ished gover­ning bodies all over the world.